The Lost Circus
Details & RSVP:http://www.geminiandscorpio.com/events.html
Sat, July 31, 11:59pm-4am,




The Circus is said to have started in ancient Egypt when the court entertainers of an immortal Pharaoh escaped their slavery under a midnight moon. They have traveled the globe for centuries, gathering talent from every great empire as the empire itself begins to crumble: Istanbul, Saint Petersburg, London, Berlin...and now they have made it across the sea.

At the stroke of midnight, discover a circus long lost. With music from times gone by or times that never were: dark string fusion by Brooklyn's own Copal and bohemian cabaret in 13 languages by Vagabond Opera - our special guests from Portland, OR. And announcing our secret guest: circus composer Sxip Shirey, on his last night before he leaves NYC.

The circus unfolds to the bands and in between: mind-bending contortion by Jonathan Nosan, aerial dance by Madeline Hoak; tribal fusion bellydance by Lauren Robbiani and special guest Rio; fire & gorgeousness by Ali Luminescent; gypsy fortunetelling by Kai Altair; an original installation & performance by artist (and Minsky Sister) Kristen Rhea van Liew. Kinetically sculptural poem of bondage, beauty, and light by The Baroness. Beautiful costumed creatures perform feats of fire in the courtyard. Dusty circus visuals set the mood. DJ sophybot fascinates your ears with a renegade circus tent soundtrack. With your ever-dapper host, steampunk author G.D. Falksen . Fanciful body artistry by AMBodyArt. Photo-op custom art installation with works by Molly Crabapple and Kathleen Green.

There will be a film crew from France shooting a Doc for French TV at this event so it is a chance to get on TV as well.

Dress code (required): dark cabaret, traveling circus, steampunk, Victorian, Edward Gorey,City of Lost Children.

FB: http://www.facebook.com/event.php?eid=141792552504061&ref=mf

Details & RSVP:http://www.geminiandscorpio.com/events.html

So who will I see at this?
Current Mood:

awake
You all just went to Comic con, Dragon con, Steam con, went out for Halloween, had the past year of having meet ups with epic photos taken. Enter the darn contest! Do not be shy! Show yourself off and win some neat swag!
All the details here:
http://www.tor.com/index.php?option=com_content&view=blog&id=58075
You have less 24 hours left till midnight!
If you do not have photoshop or anything like that use this free online one here:
http://www.pixlr.com/editor/
Do it! You have great photos! Flipping show them off and win something for it! ;-)
Current Mood:

amused
All you have to do is follow the rules to enter here
http://www.tor.com/index.php?option=com_content&view=blog&id=58075
There needs to be more photos as I know a great deal of you have some great ones that can win as long as you enter!
Also other prizes to be had here
http://www.tor.com/index.php?option=com_content&view=blog&id=58179#comments
and
http://www.tor.com/index.php?option=com_content&view=blog&id=58197#comments
and
http://www.tor.com/index.php?option=com_content&view=blog&id=58199#comments
and
http://www.tor.com/index.php?option=com_content&view=blog&id=58162
and
http://www.tor.com/index.php?option=com_content&view=blog&id=58198
and
http://www.tor.com/index.php?option=com_content&view=blog&id=58175#comments
and
more at
http://www.tor.com
Read this story and commit if you liked it !
http://www.tor.com/index.php?option=com_content&view=story&id=58108
Tor.com photo contest.
Current Mood:

amused
you should all.. and I mean all of you go over and congratulate the crew who dose Girl Genius tonight A few hours ago ,They just took the Hugo Award! This is great and I hope in some small way it helps pays them back for all the hard work they have done to bring all of you on the internet a free good web comic of fun.
Current Mood:

amused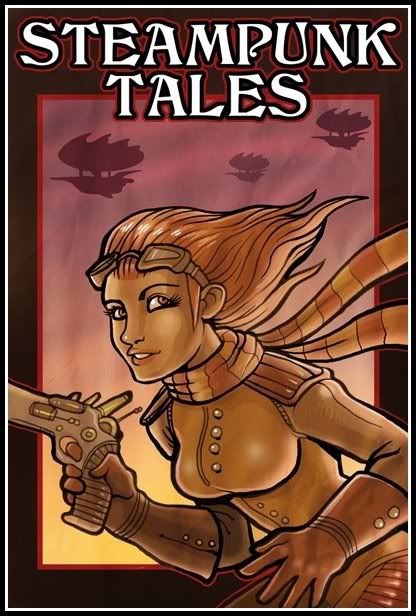 Steampunk Tales The "Penny Dreadful" For Your iPhone.
Steampulp Publishing LLC has released the world's first electronic pulp fiction magazine created exclusively for iPhone and iPod Touch! Emulating the style of the pulp adventure magazines of the 1920s and '30s,
Steampunk Tales
contains first-run, original fiction written by an A+ list of award-winning authors. Issue #1 contains 10 stories, each running between 4,300 to 11,000 words, for the unbelievable price of only $1.99. Authors contributing to issue #1 include Jay Lake, Catherynne M. Valente, SatyrPhil Brucato and G.D. Falksen. The cover art was painted by popular artist Melita "missmonster" Curphy.
Featuring:*
10 pieces of exciting steampunk and pulp fiction for the unbelievable price of $1.99
*
Featuring a true A+ lineup of award winning authors.
*
Stories run 4,500 - 11,000 words each! (totaling over 600 screen pages using the default font and font size)
*
The Steampunk Tales Reader features unique retro-futuristic Victorian styling never before seen in an eBook reader!

The amazing story's with in the premier issue of Steampunk Tales1. The Mask of Tezcatlipoca
by G D Falksen
2.Benedice Te
by Jay Lake
3. Stormada: Red Blossoms for the Queen
by Phil Brucato
4. The Anachronist's Cookbook
by Catherynne M. Valente
5. A Grain of Sand
Mark Rossmore
6. Lowlands Low
by J Flesher
7. The Reanimation Emporium
by Brian Rappatta
8. Project Möbius-5
by K. E. Kendall
9. The Man and the Robot
by Noel Black
10. Tempus Fugit
by Jennifer Wilson
Cover art by Melita Curphy
of
www.missmonster.com/
My space : www.myspace.com/steampunktales
Follow us on Twitter : twitter.com/Steampunk_Tales
Digg : digg.com/apple/Steampunk_Tales
LJ: community.livejournal.com/steampunk_tales/profile
Facebook : www.facebook.com/pages/Steampunk-Tales/118991126110
What is steampunk?
Steampunk is the science fiction of the steam age, re-imagined with the advantage of modern hindsight. Drawing upon the wealth of historical technology and the scientific fantasies of the Victorian and Edwardian periods, steampunk seeks to reinvent modern wonders such as the computer as the people of the age might have envisioned them. Following in the footsteps of Jules Verne and H. G. Wells, steampunk authors blend history, science and imagination into a world of wonder that might have been.
What were the pulp magazines?
Pulp adventure magazines were a genre of exciting and daring fiction, inspired by the great upheavals and worldwide uncertainty that developed in the wake of the First World War. Fueled by adrenaline and the greatest wonders that mid-20th century technology has to offer, Pulp explores exotic locales and terrible dangers without blinking an eye. Tackling mad scientists, would-be world conquerors, ancient curses, and even horrors from beyond the stars is all in a day's work for any Pulp hero worth his or her salt.
Current Mood:

amused
Current Mood:

amused
Time Travel Picnic
, being held on August 2nd, the opening day of the
Tuxedo, New York Renn Faire
.
Everyone will assemble OUTSIDE the main gate, so that all attendees will have an easier time finding one another before having to go inside. We will be meeting at around 1:00 pm, and while I am certain the group will not mind waiting a little while for stragglers, I would advise everyone to show up no latter than 1:15. If it happens that you show up after the main party has gone inside, please do not panic. Simply stroll about at your leisure: we should not be difficult to spot.
We will be holding a picnic inside after everyone has assembled. Food is available for purchase at the faire. For those of you interested in bringing your own items, please note that as far as I am aware the faire does not allow outside food or drink (although I don't recall them being overly thorough in their searching). If you do decide to be scandalous and bring your own nourishment, make sure it is hidden (though of course I discourage such action in the strongest possible terms, etc.)
Admission information can be found on the main page of the website. In addition, I believe there is a $10 discount coupon available for the opening weekend (the Time Travel Picnic weekend), which is explained here:
http://www.renfair.com/NY/tickets/08coupon_web.php
and can be downloaded here:
http://www.renfair.com/NY/tickets/08coupon_download.php
Directions can be found here:
http://www.renfair.com/NY/general/maptofaire.php
Please remember that those of you attending are free to dress however you please, although the Time Travel Picnic is an opportunity to wear your favorite warm-weather steampunk/Victorian outfit, which is what I shall be doing. And, on that note, I leave you with the following inspirational figures:
Regards, etc.,
-
G. D. Falksen
Ladies and gentlemen, here is an update to all of you planning on attending this year's annual
All the info for this show is here
http://artdonovan.vox.com/
On the East cost USA.
Current Mood:

awake