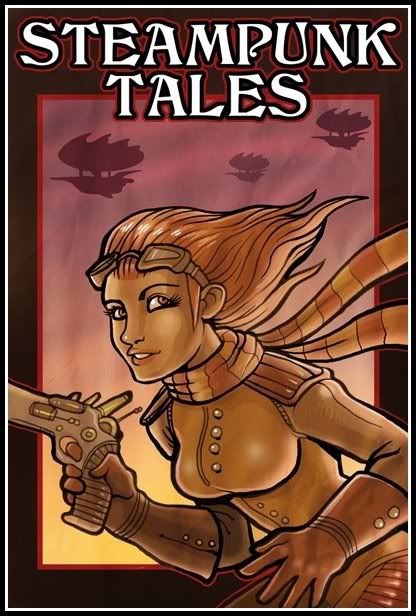 Steampunk Tales The "Penny Dreadful" For Your iPhone.
Steampulp Publishing LLC has released the world's first electronic pulp fiction magazine created exclusively for iPhone and iPod Touch! Emulating the style of the pulp adventure magazines of the 1920s and '30s,
Steampunk Tales
contains first-run, original fiction written by an A+ list of award-winning authors. Issue
#1
contains 10 stories, each running between 4,300 to 11,000 words, for the unbelievable price of only $1.99. Authors contributing to issue
#1
include Jay Lake, Catherynne M. Valente, SatyrPhil Brucato and G.D. Falksen. The cover art was painted by popular artist Melita "missmonster" Curphy.
Featuring:*
10 pieces of exciting steampunk and pulp fiction for the unbelievable price of $1.99
*
Featuring a true A+ lineup of award winning authors.
*
Stories run 4,500 - 11,000 words each! (totaling over 600 screen pages using the default font and font size)
*
The Steampunk Tales Reader features unique retro-futuristic Victorian styling never before seen in an eBook reader!

The amazing story's with in the premier issue of Steampunk Tales1. The Mask of Tezcatlipoca
by G D Falksen
2.Benedice Te
by Jay Lake
3. Stormada: Red Blossoms for the Queen
by Phil Brucato
4. The Anachronist's Cookbook
by Catherynne M. Valente
5. A Grain of Sand
Mark Rossmore
6. Lowlands Low
by J Flesher
7. The Reanimation Emporium
by Brian Rappatta
8. Project Möbius-5
by K. E. Kendall
9. The Man and the Robot
by Noel Black
10. Tempus Fugit
by Jennifer Wilson
Cover art by Melita Curphy
of
www.missmonster.com/
My space : www.myspace.com/steampunktales
Follow us on Twitter : twitter.com/Steampunk_Tales
Digg : digg.com/apple/Steampunk_Tales
LJ: community.livejournal.com/steampunk_tales/profile
Facebook : www.facebook.com/pages/Steampunk-Tales/118991126110
What is steampunk?
Steampunk is the science fiction of the steam age, re-imagined with the advantage of modern hindsight. Drawing upon the wealth of historical technology and the scientific fantasies of the Victorian and Edwardian periods, steampunk seeks to reinvent modern wonders such as the computer as the people of the age might have envisioned them. Following in the footsteps of Jules Verne and H. G. Wells, steampunk authors blend history, science and imagination into a world of wonder that might have been.
What were the pulp magazines?
Pulp adventure magazines were a genre of exciting and daring fiction, inspired by the great upheavals and worldwide uncertainty that developed in the wake of the First World War. Fueled by adrenaline and the greatest wonders that mid-20th century technology has to offer, Pulp explores exotic locales and terrible dangers without blinking an eye. Tackling mad scientists, would-be world conquerors, ancient curses, and even horrors from beyond the stars is all in a day's work for any Pulp hero worth his or her salt.
Current Mood:

amused